Southampton 0 - 3 Liverpool FC
Southampton 0 - 3 Liverpool FC Video Clips MoTD
Yes three point, we have beat southampton 3 - 0 at St Mary Stadium. The results make Liverpool FC now climb to 2nd position. That really good, although Man City still have 2 match behind. But that no matter. And the most happiest for me is Suarez score again :) ... he looks very sharp at front. playing with 4-4-2 diamond formation. Brendan leaves Suarez and Sturridge alone at front, while Coutinho playing behind them, and the three midfield playing more deep. Gerrard, Allen and Henderson play more defensive tonight. They success to slow down Southampton attack.
In the first half, i think Suarez goal really help LFC. because after the goal, southampton play more dominant, and that also happen in the second half. But Brendan do something cleverly, he subs Coutinho and replaced by Sterling, and sterling give big impact, he scores on his first touch, and again brilliant assist by Suarez. Suarez also show that he not playing selfish, and try to give assist for Sturridge. But Sturridge fail to accomplished his goal, and fail to chase van nistelrooy record.
While we in front nobody can denied that we are the best, our defense is really not good. But tonight seem deferent, Skrtel, Agger, play really solids there, and alseo mignolet have some brilliant save.
Johnson and Flanagan rarely go forward, but play solids at defense. And the result is we got another cleansheet after horible defensive display before.
well we happy tonight, let celebrate the 3-0 wins, now we are chasing chelsea and man city, and ready for next match vs Sunderland.
Southampton 0 - 3 Liverpool FC Match Pictures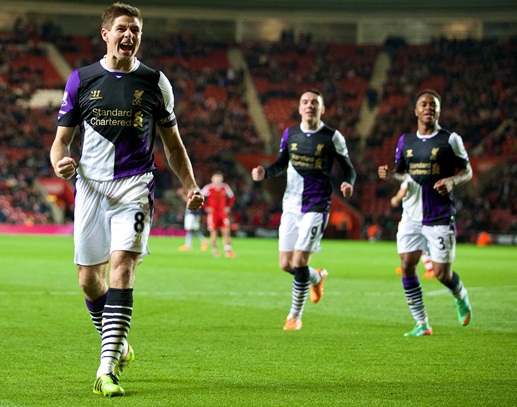 Author:
@shawct